Like this page? Let your friends know about it. Share it through Facebook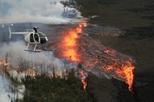 Fire and Falls Helicopter Adventure from Hilo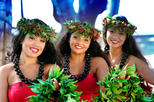 Island Breeze Luau on the Big Island
Hawaiian Noggin Buster
In all of the metropolitan areas of Hawaii - or at least in the major cities - there is a rule requiring all coconut palms in public areas to be de-nutted. Ok, that means city workers must remove any growing fruit from the tree. Apparently in the past coconuts falling from the trees often struck both pedestrians and vehicles on the public streets. Someone was killed by being struck on the head by a falling coconut. If you've ever seen them in their natural casing (which is not the way we find them in the grocery stores), you know that it's not far from the hardness of a canon ball. Regardless, they are hard and heavy, and falling from a height of fifty feet or more, well you get the point.
It is no wonder that cities must exercise care if coconut palm trees are going to co-exist with humans on city streets. Along public streets and down centre green strips of boulevards long lines of palm trees of all sorts, including coconut palms, give a tropical look to cityscapes and city crews have a constant job of keeping the trees cleared of coconut growth. In cities such as Honolulu, it's a major undertaking.
But what about in nature? Coconuts are the "seed" of coconut palm trees. Their means of reproduction. Sure, just like with any fruit tree, the coconut is harvested for human consumption and other uses, but the seeds also serve as the means of propagating the spread of this tree variety. Unlike many seeds which end up being buried in the soil in order to germinate, for the most part the coconut lays on the surface of the ground and given enough time the outer shell begins to come apart. Roots from the actual coconut fruit inside the shell establish contact with the earth and growth of a new coconut palm tree begins.
I captured this picture on one of our outings while in the Hawaiian Islands recently. This was on the island of Kauai. Though not in a strictly natural setting - I think these were placed where they were as part of landscaping work - it is intriguing to see the natural process as new trees are created out of the hardness of the Honolulu Noggin Buster.

Germinating Coconuts on Kauai, Hawaii

Kauai Beach

Ginger Flower on Kauai